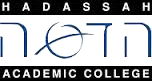 Located in the bustling heart of downtown Jerusalem, Hadassah Academic College (HAC) is a unique educational institution affording students a world class, career focused education. Recognized and accredited by Israel's governing body for colleges and academic institutions, the Council for Higher Education, the College offers undergraduate and graduate degree programs leading to in-demand professions in four schools of Health and Life Sciences, Computer Science, Design and Communication, and Government and Social Sciences.
Since its accreditation in 1996, the College's academic programs have focused on training Israel's next generation of skilled professionals while emphasizing excellence in instruction, research and innovative scholarship. HAC is dedicated to imparting its students with the knowledge, skills, and sense of personal empowerment they need to build successful careers.
HAC is committed to open opportunities in higher education for all sectors of Israeli society. Fifty percent of students come from outside of the greater Jerusalem region. Seventeen percent of all students are from Israel's minorities.  Students study in an atmosphere of mutual respect as they acquire knowledge and skills that will serve them well.
In 2012, Hadassah strengthened its commitment to diversity by launching a new undergraduate degree-track program for ultra-Orthodox men and women seeking professional degrees.
Academic Training for Today's Career Market
HAC is consistently ranked high among Israel's colleges, offering students – over half of whom are the first in their families to pursue higher education- a gateway to a better future. HAC graduates earn more than just a degree. They complete their studies with practical experience, personal skills, knowledge and extensive contacts with employers in their respective field. HAC believes that higher education is not only an academic endeavor but also a means to achieve the satisfaction, stability and fulfillment that come with a successful career.
Students receive dedicated personal attention thanks to HAC's three pronged approach to student success which incorporates guidance and job placement opportunities from the College's Career Center, partial scholarship aid and interest-free loans, and individualized academic assistance. This unique approach translates into impressive results: HAC has the lowest student attrition rate in the nation, surpassing even those of major academic universities. Ninety-two percent of enrolled students successfully complete their study programs, and nearly 90% of graduates find work in their chosen fields within six months of graduation.In addition to classroom studies, students take on a wide range of practical learning experiences in the community and within industry, including volunteering in non-profit organizations and institutions, staffing HAC's community health clinics, professional internships and more. Students develop the skills needed to compete and succeed in the workforce.
Encouraging Research and International Cooperation
Although the College is primarily a teaching institution, faculty is encouraged to pursue original research.  The College's Authority for Research and Development promotes interdisciplinary collaborations both within the College and through national and international partnerships.  This collaborative spirit has enabled the College to secure competitive grants from both local and overseas bodies.
For example, the College is currently undertaking an EU-funded research effort called Project Bio-Explore, a large-scale biotechnology research study examining possible therapeutic uses from local plants. The project is being conducted in cooperation with researchers from the United States, Spain, Greece and the Palestinian Authority.
For more information: http://www.hadassah.ac.il/en/